Have you checked out one of our Lucky Duck books yet?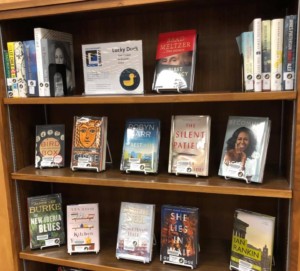 This is a special collection of bestsellers and popular books with long hold lists to help you get your hands on the books you want faster. Lucky Duck books check out for 7 days and don't take holds or renewals so they can be on the shelf as much as possible. If you come in and the book you want is on the shelf, you're a lucky duck and get to skip the holds line! We refresh this collection periodically, taking out books that no longer have long holds lists and adding new popular books as they come out.
Our Lucky Duck shelves at the New Albany location are located near the Upper Customer Service Desk and the adult new books and we have a Lucky Duck collection at the Galena Digital Branch, too. Don't forget to check these shelves when you visit the library;  you just might see the book you've been waiting for or discover a popular book you've been meaning to read.
— Abby Johnson, Collection Development Leader