There have been some GREAT books by Native American authors published this year! Check out these Native American authors!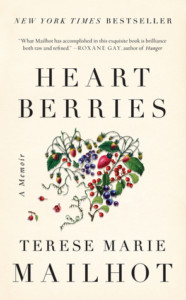 Heart Berries: A Memoir by Teresa Marie Mailhot (2018; 143 pages).
Ebook available via Hoopla. Downloadable audiobook available via Hoopla.
This slim volume packs a powerful punch as Mailhot, a First Nations Canadian author, writes about being abused as a child, going through emotionally abusive relationships, and spending time in a psychiatric facility after a breakdown. Her poetic writing breaks the silence around abuse. Readers who gravitate towards heartbreaking memoirs like The Liars Club by Mary Karr (1995) or A Heartbreaking Work of Staggering Genius by Dave Eggers (2000) should pick up this book.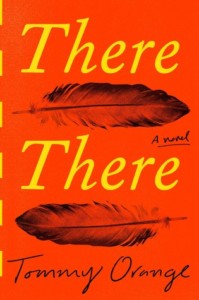 There There by Tommy Orange (2018; 294 pages).
Ebook available via Overdrive. Also available in Large Print, CD Audiobook, and Playaway Audiobook.
A wide cast of characters in Oakland, CA are brought together for the Big Oakland Powwow in this modern, urban novel. As you read and meet these interesting characters, you begin to discover how they're all related. From the moment I picked up this book, I didn't want to stop reading. The book builds up to an explosive climax in this unforgettable debut. If you like books with characters that you can't wait to get to know and discover more about, pick up this book.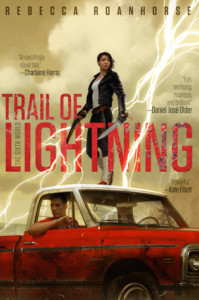 Trail of Lightning by Rebecca Roanhorse (2018; 287 pages).
Ebook available via Overdrive.
In a post-apocalyptic North America where the end of the Fifth World has allowed supernatural creatures to walk the earth, Maggie Hoskie uses her Clan powers to fight the monsters that threaten their survival. When she discovers that some of the monsters are man-made, created by a powerful witch, she must form an unlikely partnership with Kai, a medicine man in training. This fast-paced fantasy adventure incorporates Navajo mythology and is a great read for teens and adults who enjoy un-put-down-able urban fantasy and who don't mind a bloodbath.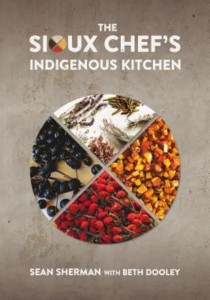 The Sioux Chef's Indigenous Kitchen by Sean Sherman with Beth Dooley (2017; 256 pages).
This cookbook presents recipes made with indigenous ingredients, foods that indigenous people would have used in the days before European influence. I brought this one home to see what it was all about and my husband was so intrigued, particularly by American plants and products that replace common modern ingredients like pepper and sugar, that he requested I purchase a copy for our home. (If a librarian BUYS a book, that's a high recommendation!) Even if you're not a big cook, it's worth checking out for the wealth of authentic information here.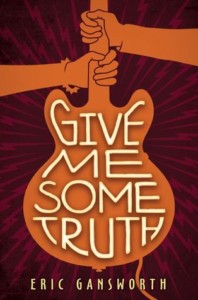 Give Me Some Truth by Eric Gansworth (2018; 403 pages).
This second YA novel by Onondaga author Eric Gansworth is a love letter to the Beatles and a powerful call for justice. Carson wants to put a band together for Battle of the Bands, his ticket to winning a trip to New York to jump start his music career, but he's also facing injustice from a racist restaurant (Custard's Last Stand) near his reservation home. When the two become intertwined, Carson will realize that his actions have unintended consequences. This book is a testament to the power of art as communication and will appeal to readers of smart teen fiction. If you like John Green, I urge you to try Eric Gansworth, too.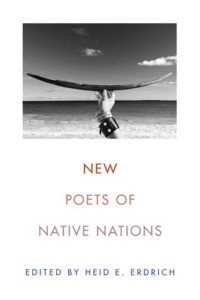 New Poets of Native Nations edited by Heid E. Erdrich (2018; 284 pages).
I just ordered this book and I haven't seen it yet, but I'm very excited for this book of poetry that collects 21 Native poets first published in the 21st century. Anthologies are a great way to discover new writers to watch and I can always use a little more poetry in my life. Put this one on hold and be one of the first to read it when it comes in.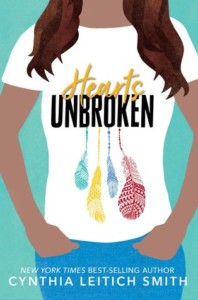 Hearts Unbroken by Cynthia Leitich Smith – coming in November 2017!
And I'm cheating a little bit here because this one's not due out until NOVEMBER, but I'm really excited about this modern YA story about a Native teen and first love. I have been hearing some great things about the strong characters and the protagonist's strong sense of self in this novel. Muscogee author Cynthia Leitich Smith has published several teen paranormal romance series (such as Feral Nights), but I love realistic fiction so I'm really looking forward to this one. Add it to your to-be-read list and look for it to be in the library's catalog this fall!
— Abby Johnson, Collection Development Leader