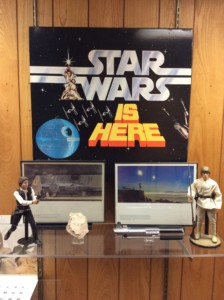 Although just the tip of the iceberg of David West Reynold's Star Wars collection, the exhibit currently on display at the New Albany-Floyd County Public Library tells the story of the history of the film franchise and Reynolds' own life journey.  On display are a handful of Star Wars toys, games, and promotional material released for the original Star Wars film in 1977.  While a student at Scribner Middle School, Reynolds made many stop-motion movies with these toys that were showcased in the library auditorium.  Also dating to this period is a sketch Reynolds made in class of what he imagined the interior of a lightsaber might look like.
Fast forward twenty years later and Reynolds – while finishing up his PhD in archaeology – went on an expedition to Tunisia in North Africa to the original filming locations of Star Wars where he uncovered numerous lost props and film sites.  Some of these props – such as the bone of a giant sand worm or pieces of Luke Skywalker's house – are also on display.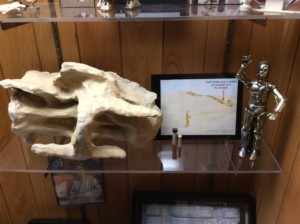 Reynolds' publication of his findings in Star Wars Insider got him a job with Lucasfilm – George Lucas' film production company – which was then working on the production of Star Wars: Episode I: The Phantom Menace.  Reynolds became a location scout for that film and then worked for the company for years, publishing several Star Wars books.  Stop by the exhibit to see a stormtrooper helmet created specifically for the publication of the Star Wars: The Visual Dictionary, a piece of the original Death Star, and the enormous electronic Millennium Falcon released by the Hasbro toy company and modeled after Reynolds' design for the Falcon in Star Wars: Incredible Cross-Sections.  Also check out the cutaway display of the lightsaber for The Visual Dictionary – it's nearly identical to the sketch Reynolds made at Scribner.
Reynolds has worked a variety of jobs outside of Lucasfilm, including working on paleontological digs and for NASA.  Recently he's written and directed a documentary about his expedition into Tunisia twenty years ago – a film he'll be presenting himself at the library Saturday, March 17 at 3 PM as part of the Star Wars Day celebration.  Drop in anytime between 1-3 PM for the Star Wars party.  There will be various activities and games for all ages including a stop-motion makerspace where you can make your own Star Wars movies.  There will also be a representative from the L.A.R.P.ing group Amtgard leading a lightsaber dueling station as well as a host of professionally costumed characters from the 501st Legion of Stormtroopers and more!
Check out these books by David West Reynolds at the library: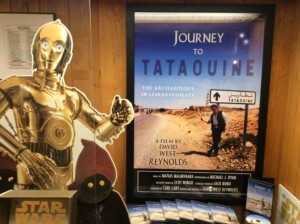 Apollo: The Epic Journey to the Moon (2002; 272 pages)
Star Wars: Attack of the Clones: The Visual Dictionary (2002; 64 pages)
Star Wars: Complete Cross-Sections (2007; 151 pages)
Star Wars: Complete Vehicles (2013; 207 pages)
Star Wars: Episode I: Incredible Cross-Sections (1999; 32 pages)
Star Wars: Episode I: The Visual Dictionary (1999; 64 pages)
Star Was: Incredible Cross-Sections (1998; 32 pages)