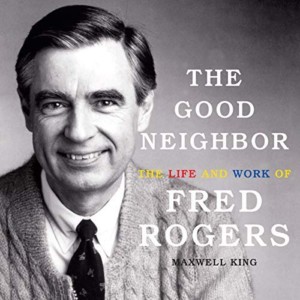 Grab a good neighbor to accompany you on your road trips this holiday season.
You might be spending a lot of time in the car this month – road tripping to visit family and friends, sitting in traffic trying to get in and out of the mall… And there's no better accompaniment in the car than a great audiobook. I give you The Good Neighbor: The Life and Work of Fred Rogers by Maxwell King, read by LeVar Burton (2018; 406 pages; 14 hours). This biography of Fred Rogers is a wonderful audiobook listen for anyone who grew up watching (or had kids who grew up watching) Mr. Rogers Neighborhood. As an added childhood-nostalgia-bonus, it's read by LeVar Burton of Reading Rainbow fame (and many other things).
Listening to this book was not only a nostalgic revisiting of childhood media, but I learned so much about this man who dedicated his entire life to educating and nurturing children across the world. I found it so interesting to hear about early life and his career in public television, including his testimony at court hearings that saved public television by preserving funding for it. You may have seen the documentary about Fred Rogers that came out earlier this year, and this book is still a great choice for adding more detail to what you learned there.
If you're looking for a feel-good audiobook listen for this wintry time of year, this is a great choice. AND it's available in several formats from your library:
— Abby Johnson, Collection Development Leader