One of the best graphic novel series of the past three years, for my money, has been The Nameless City series by Faith Erin Hicks which reached its conclusion last month with The Divided Earth.  The series is set in a vaguely Asian fantasy world — we suppose, there are actually no fantasy elements to the story, it just doesn't fit into any historical time or place.  The Nameless City introduces Kai, a member of a warrior-culture who leaves his home to travel to Dandao – a strategically important, sprawling city occupied by his homeland, although he is less enthusiastic about training to become a soldier than about meeting his father, Andren, who has always lived away from home, serving as a general in Dandao.  Dandao has only been Dandao for a few decades.  The city has been conquered and reconquered over the centuries by warring nations for so long that no one remembers the original name of the city and most of its inhabitants just try to live their lives waiting out the current regime.  The current rulers begin to grow anxious, feeling their time is growing short, and Andren develops a plan to end the cycle of violence permanently by giving the people of the Nameless City a voice.
There are plots and schemes and such and the background of the story is maybe a little overly complex while the plot itself seems to be almost too simple.  The real heart of the series are the characters, particularly the unlikely friendship of Kai and Rat, but also the dozens of characters – some, appropriately, nameless – who have rich personalities and a life of their own, something akin to the characters of Charles Dickens, or J.K. Rowling to give a more contemporary reference, or the characters of the TV show Avatar: The Last Airbender, which is probably this graphic novel series' closest counterpart.
The artwork is also well done and very detailed.  The city feels like a real place outside of the panels of the comic.  Great word-building, compelling characterization, humor, heart, and a satisfying ending make this series an enjoyable read.  The books will appeal mostly to tweens and teens – upper elementary and middle school students – or anyone who's a fan of a good graphic novel.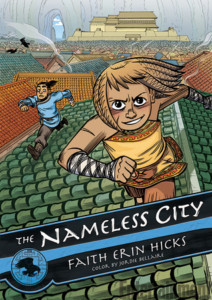 The Nameless City Trilogy by Faith Erin Hicks:
The Nameless City (2016; 232 pages)
The Stone Heart (2017; 246 pages)
The Divided Earth (2018; 265 pages)